Math 100
Welcome to Spring 2018 Math 100!
If you didn't buy a book yet, you can view and purchase it at http://www.xyztextbooks.com/catalog/product/introductory_algebra or you can buy it new or used at the bookstore on campus. You can buy a 12-month all access pass online for $40 if you would just like to have access to the book online, or you can buy the book new with online access for $58.
The book we are using looks like this: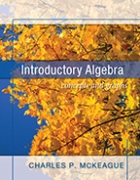 The first chapter is free online at:
http://www.mathtv.com/onlinebooks/current_titles?book_id=11&chapter_id=44§ion_id=357
The following handouts will be available the first day of class.
First day handouts:
Syllabus
Calendar
Homework ("eoo" means every other odd. For example, 1, 5, 9, 13,...)
Here are the first few pages of homework for those of you who don't have a book yet: